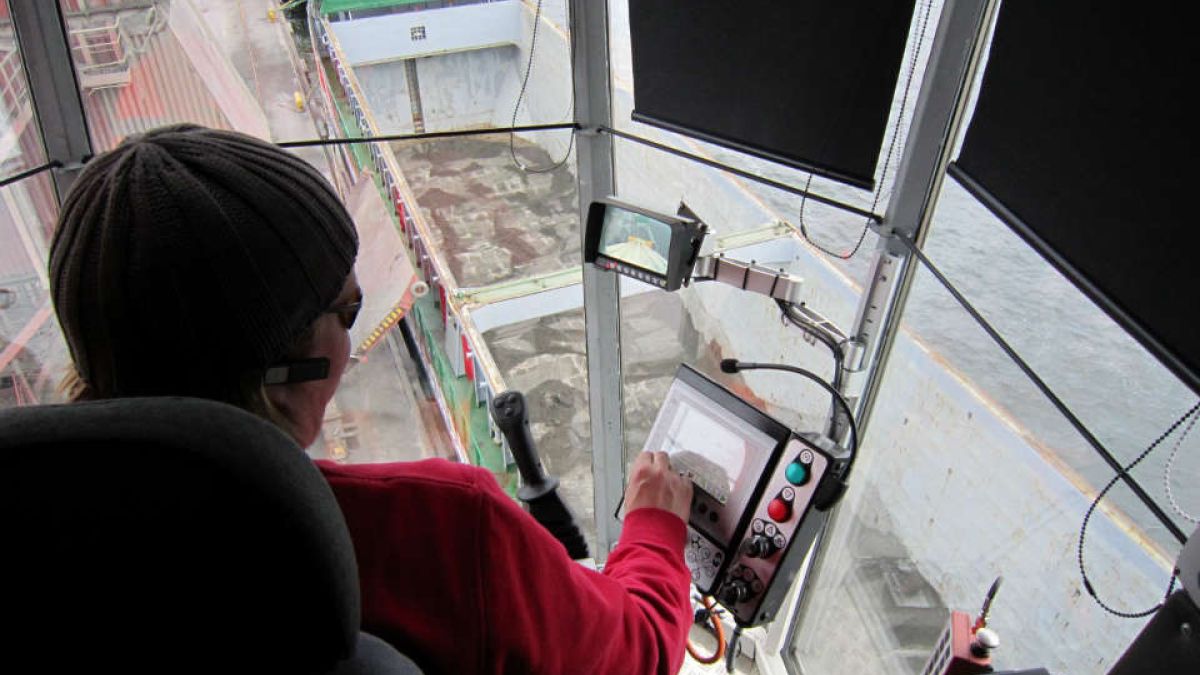 Getting the balance right
Bas Tolhuizen, E‑Crane, Belgium, explains how equilibrium-balanced cranes offer particular benefits for the bulk materials handling industry.
E-Crane developed the first equilibrium‑balanced cranes 25 years ago. The design is based on an innovative parallelogram‑style boom that provides a direct mechanical connection between the counterweight and the load. This four‑bar mechanism system ensures that the crane remains in balance throughout its working range.
Compared to conventional cranes, which require as much as 80% of their available energy just to move the boom, stick and grab, the equilibrium‑balanced crane works with, rather than against gravity, reducing horsepower requirements and power consumption by up to 50%, as well as reducing maintenance and operating costs. Flow‑on‑demand hydraulics also play a part in lowering power consumption, along with the modular design. This simple, balanced design with modular construction allows for off‑the‑shelf components for longer service life, but also enables custom solutions.
Versatile machine
The equilibrium-balanced crane is specifically designed for (un)loading barges and ships (Figure 1). Bulk materials, including coal, limestone, fertilizer or scrap steel can be handled. The machine can easily switch between commodities and still offer the high production required at many ports and industrial facilities.
Equilibrium‑balanced cranes are installed on a fixed or free standing pedestal, but they can also be mobile. When necessary they are mounted on high or low gantry rails or even on crawlers. The balanced nature also permits mounting on any type of barge, even ones without spud poles.
The equilibrium‑balanced crane is placed between production line excavators (or material handlers) and large‑scale dedicated unloading structures. Even small cranes offer more unloading capacity than any standard excavator. Larger machines can compete with dedication systems in terms of production and come in at only a fraction of the installed cost. The company's clients report that, with this type of crane, there are less annual maintenance costs than with their other material handlers. The E‑Crane product line is rated for barge offloading from 500 – 3000 tph.
Simple maintenance
Maintenance on these cranes is fast and straightforward. Since the machine is always in a near‑perfectly balanced state, there is less wear and tear on the main pins and components compared to a typical material handler. They are serviced using a pit stop‑style preventative maintenance system, which the operator can complete in minutes, minimising downtime and keeping the balanced crane unloading around the clock.
New technological developments
Reliability is an important factor when buying new equipment. In order to bring downtime due to maintenance to a minimum, E-Crane's new machines come with a new, reliable and user‑friendly control system called the electronic machine manager (EMM).
Innovation in tracking data
This built-in system is a huge innovation for collecting real‑time data. Running time can be tracked and sensors can be monitored to ensure correct operation. The EMM will notify the operator if any troubleshooting is needed and perform corrections to the system. Some cranes are set up to even stream live, real‑time video of the machine in operation to local management for analysis and observation (Figure 2). The EMM system also provides the link between the operator and the crane, which is necessary for safe and productive bulk material handling. The software makes troubleshooting easy, by immediately displaying any warning or fault on the dialogue module located right inside the operator's cab.
Reports for evaluation
This real-time system data can be transmitted to the customer's network for monitoring. Depending on the needs of the customer, the EMM system can be set to generate daily, weekly or monthly reports of the crane operation. While the crane is running, the system will constantly track data that the customer specifies. The customer can then log into the system to view these reports (Figure 3). This data allows the customer to oversee and evaluate their operation and make changes as necessary. They are able to monitor cycle times and make adjustments to improve production. This type of feedback is critical for the customer, because they are able to determine the factors which lead to the highest production rates.
A huge timesaver
The EMM system also enables the crane operator to programme in certain operating parameters for more precise and safe control of the crane. For example, the operator can set a specific position of the crane into the memory of the EMM system. This is ideal in situations where the crane is dropping material into a single location or dumping material into a fixed hopper. This saves time and work for the operator: after filling up the grab, the crane will automatically return to the programmed position at the touch of a button. Not only does this reduce cycle time and ease operation, it can ensure that the crane will avoid interference with other equipment.
Live support via remote access
The EMM system even allows for remote access to the crane, meaning that the operating system can be monitored and repaired remotely via secure cellular connection. A crane with remote access hardware installed can be diagnosed and fixed from anywhere in the world, and the system can be upgraded and updated expensive and unexpected downtime and delays.
Case study: PPG Natrium
E-Crane commissioned a pedestal‑mounted 1000 Series, Model 7317 equilibrium‑balanced crane for the PPG Natrium chemical plant based near Wheeling, West Virginia. This relatively small crane can handle up to 10 t and has a maximum outreach of 31.7 m. Installation specifications are listed in Table 1.
Limited with outdated equipment
The PPG plant produces industrial chemicals using steam and electricity from its own power plant. For nearly 70 years, PPG had used a wire rope clamshell crane to unload coal from barges on the Ohio River. This cable crane was built in the late 1930s and had been in continuous service since. It was believed to be the oldest working crane of its type in operation (Figure 4).
PPG chose an E‑Crane balanced hydraulic crane to replace its old cable crane. The crane was designed with a custom lower to fit onto the same concrete pedestal that had supported the original cable crane (Figure 5). The company was given turnkey responsibility for removing the cable crane unloader and installing the new crane, as well as testing, training and commissioning services.Custom engineered
Fast assembly
The installation crew prepared well. The new crane came to the site pre‑assembled into five subassemblies on a deck barge. After just one day of setup and preparation, the old cable crane was lifted off of its foundation based on an engineered lift plan prepared by the company engineers. After two days of concrete foundation preparation, assembly of the new crane began. Four days later, it was completely assembled and ready for power‑up. The crane is currently in use unloading coal used in onsite power production and steam processes.
New equilibrium-balanced cranes for Asia
Two equilibrium‑balanced cranes will also be put into operation later this year in Indonesia. Both are for coal handling: one unit was sold to Holcim Indonesia, the other to Vale Indonesia. This brings the total number of equilibrium‑balanced cranes working in Asia to over 25. According to management, this number is expected to rise quickly in the next few years as more terminal operators start to see the benefits such cranes can bring to their facility.
Proven solution for coal handling
Specifically designed for barge and ship unloading, E‑Crane has proven itself at ports and terminals, offering complete solutions that ensure high efficiency and productivity, as well as fast, efficient solutions for midstream transfer operations.
Source: World Coal Asia, June 2013