E-Crane Asia Welcomes Harriet To The Family!
When cute furry cuddlies are too mainstream, E-Crane takes a furry friendship & adoption to the next level….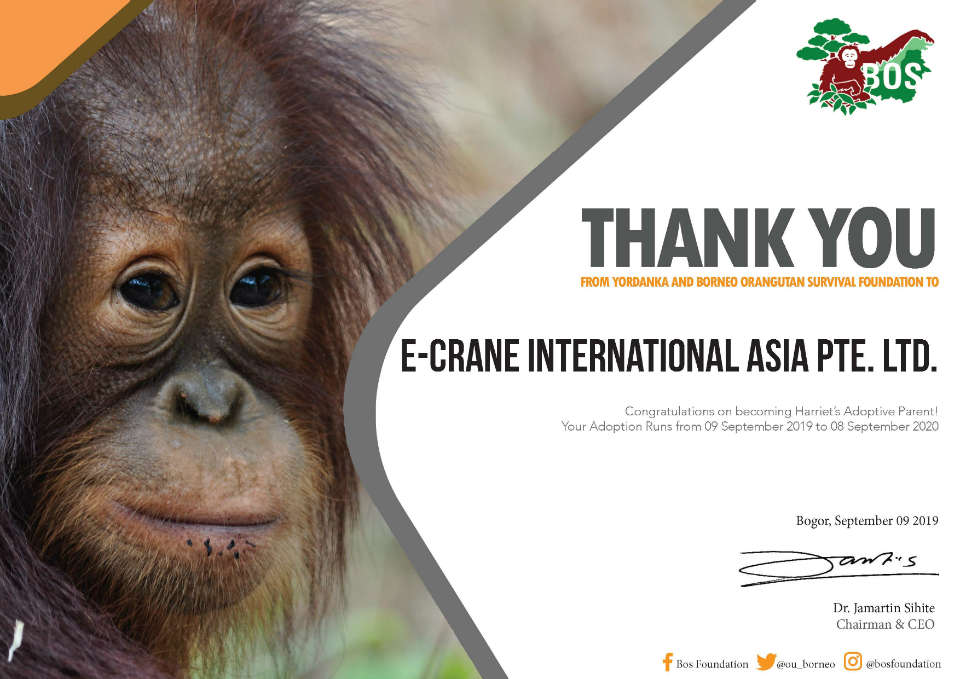 Rehabilitation Centre: Samboja Lestari
Arrival Date: August 16, 2014
Current Age: 7 years
Gender: Female
Current Location: Forest School – Group 1
Background
On 16 August 2014, Harriet – a timid young female Orangutan, aged 2, was rescued and handed over to Borneo Orangutan Survival Foundation (BOS) Foundation – an Indonesian non-profit organization dedicated to the conservation of the Bornean orangutan and their habitat, in cooperation with local Indonesian Ministry of Forestry.
During her captivity, she was kept in a small wooden crate beside a generator that was operating 24 hours, which caused her to suffer hyperacusis (heightened sensitivity to loud noises) & haphephobia (fear of touching or being touched). Nothing could calm her down during her heightened episodes.
Over time, through this foundation intense care and support, Harriet managed to overcome her trauma and build up more confidence. She is now seven years old and developing her natural behaviours and survival skills in Samboja Lestari's Forest School Group 1. She has grown into a rather independent orangutan who still appears a bit shy and timid at times.
E-Crane Adoption
With the advantage of BOS Foundation being an hour drive away from E-Crane Indonesia Balikpapan office, E-Crane have officially adopted Harriet and will be contributing to Harriet's rehabilitation program. This includes:
Rescue & Rehab Operation
Food & Logistics
Medical supplies and equipment
Lab Test
Materials for enrichment and school activity
Through this course, E-Crane hopes and aim to give Harriet the opportunity to be released back into her natural habitat; and also, in hopes that this new found love brings E-Crane friends from all over the world, to show their unconditional support and love…
Source: BOS – Borneo Orangutan Survival Foundation https://orangutan.or.id/