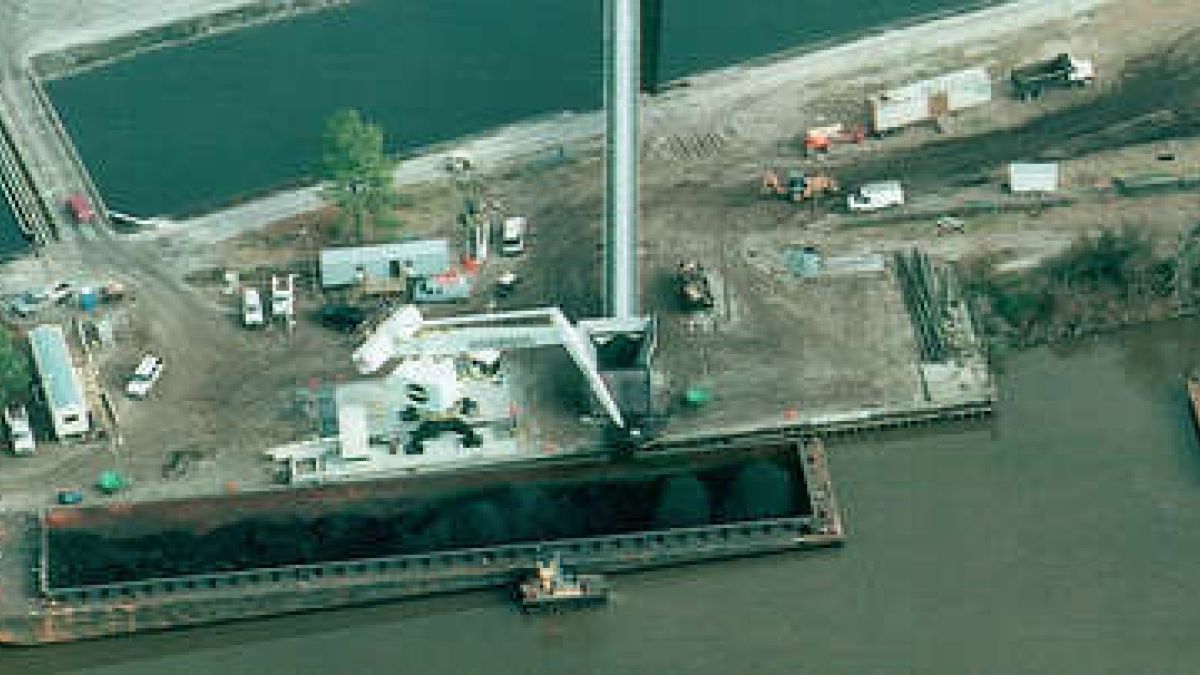 Accommodate new marine deliveries Progress Energy Carolinas, USA
In the case of Progress Energy Carolinas (PEC), its LV Sutton Plant near Wilmington, North Carolina, is located on the Cape Fear River. The facility is accessible only by barges.
PEC wishes to diversity its coal sources to include Venezuela, and it already had a barge pier at its plant. However, the depth of water alongside is only 16 feet. Furthermore, sufficiently deep water for ocean going bulk carriers is 12 miles downriver.
PEC decided on a system that includes transshipment of coal from self-unloading bulk carriers into barges formerly engaged in the Seminole electric coal trade in Florida. Ocean vessels berth at the Atlantic Diving Terminal in the POrt of Wilmington, and self discharge into the barges moored alongside. Five barges are cycled between vessel and plant. The barges are pushed upstream about 12 miles to the plant, where they are discharged by a Belgian-made E-Crane™ ('E' for equilibrium – for more details on the E-Crane™ concept, as well as the PEC project, see p64 of the April 2003 issue of Dry Cargo International or click here!). The crane discharges directly to a hopper/conveyor system that conveys coal across wetlands to the plant's stockpile. The conveyor is a closed installation to prevent coal dust from entering the environment.
Three cargoes have been received thus far utilizing this system, and as at this writing, several more are either fixed or are on the water. PEC is very excited about its capability to diversify its fuels sources. For a very modest investment (PEC officials were unable to specify the amount), the company has developed a system that has reduced its reliance on domestic purchasing, and broadened its selection of best fuels for its plants.
Source: Dry Cargo International Issue June 2003